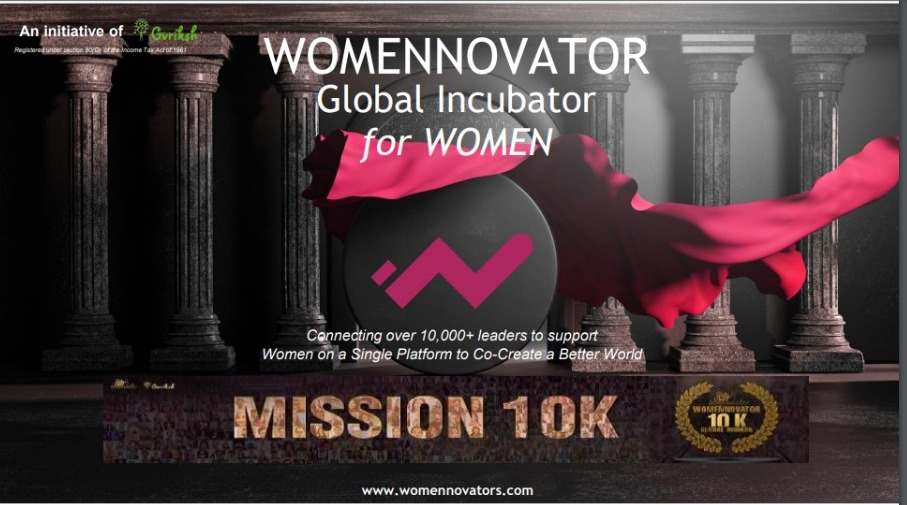 Womennovator Corporate Presentation
Corporate Brochure | Click Here
Partnership Brochure : Click Here
About Womennovator (Gvriksh)
Womennovator is the flagship program of Gvriksh (Not for profit society registered under section 12 AA (Section 80G) of the income tax act). Gvriksh is also registered with Darpan (Niti Aayog), which has been actively working for women entrepreneurs to help them achieve their ultimate goal. Womennovator is a Global incubator for women supporting Women across the globe and celebrates the triumph stories & records of passionate women who dared to innovate the world and honor them with awards and recognition. It is a Global Incubator for women supporting Women entrepreneurs in scaling operations domestically and internationally and creating distribution networks, Women leaders/ Professionals to be Directors, or become job creators and Women community leaders to be policy change-maker.   
Womennovator is a vibrant global community of men and women dedicated to making Nari Atmanirbhar. Our Women Empowernment (WE) Kutumb has grown manifolds over the last eight years and has impacted over 10,000 women. At Womennovator, "Atmanirbharta '' encompasses all the facets of a women's life - economic, social, emotional, cultural, political, and societal. Womennovator, as the name suggests, symbolizes women as innovators and trailblazers in society. Today our Kutumb has over 20,000 dedicated people working relentlessly across 5 nations and 100 cities abetting 'her' journey.
The community's collective approach will help us solve complex societal challenges. We identify and address issues at the local level. The Womennovator platform can target grassroots-level changes that are otherwise hard to hit. Our distributed network of community leaders (also known as Influencers) is our decentralized powerhouse; they are the medium of change – allowing everyone to be part of the solution and not remain part of the problem. Influencers are spread across 200 cities and sectors and help to bring women into the WE community by organizing WE-Pitches. WE-Pitches are events where women come forth and take agency. Agency to upskill and uplift the local community of women and bring them into the financial and social canvas of the nation.
WE Community believes in 'Unnati' through micro-interventions. Many government bodies and corporates have supported our flagship "Global Incubation & Acceleration" program. We have successfully incubated over 500+ women start-ups this year. We are on an audacious journey to incubate 10,000 women start-ups. The Womennovator Global Drive Yatra commences early next year with a focus on creating empowered leaders in all districts and providing them with a technology-enabled platforms to maintain and grow their communities and E-commerce & marketing capacity building for a women-led organization to increase domestic and international trade.
We recently sensitized our corporates and govt bodies towards Gender Responsive Procurement (GRP) – the idea was while the Incubation program made women producers of goods and services, they needed to get opportunities to market them. The GRP is a nudge for their business to grow and accelerate. Many Corporates have pledged to demonstrate GRP behaviors and have opted to include our women entrepreneurs in their supply chain, like Tally Solutions Pvt Ltd, Yes Bank, PriceWaterhouseCoopers, Hindustan Unilever Limited, Banswara Syntex Ltd, Brookfield properties, Anand Rathi Group, Sangam Group, Capital India, KEI cables and wires, DS Group, Cisco, HSBC India, Mott Mac Donald, Oracle financial services software ltd, SRF Ltd, Rashtriya Swamsevak Sangh, EBix etc
Impact Created by Womennovator (Click here) :
Womennovator has created a network of 10,000 women across 100 plus cities in India as well as internationally. The local chapters in each city are headed by curated influencers and mentors through whom we provide assistance.

In 2022, Launched 10k Womennovator Global Awards  (Empowering Billion Women), Womennovator Global Yatra (Road show) and Womennovator Creators awards with Shikhar Dhawan, Celebrity Cricketer as our brand ambassador under #HeforShe Campaign.

In 2021, First time ever - 1000 Women of Asia Awards (Click here) - Inaugurated by Shri Piyush Goyal, Glimpse of 1000 Women of Asia awards 2021 conducted over a period of 3 years- Click here. 

To achieve, 1000 Women of Asia Awards, conducted 100+ WE pitching competitions in 100+ cities, focused on 90+ sectors for women with leaders and 800+ mentors globally- Sample WE Pitch and hear more than 1000 + WE Pitches, 60 Sec pitches of women from across globe.

In 2020, Womennovator  featured among the  best 7 VC incubators for women:  In 2020 Womennovator was ranked amongst the top incubators in the country for women by a leading daily -Click here 

In past 6 months, created local chapters in Australia, Dubai, South Africa, USA in addition to India. Managed 200+ leaders, building capacity and onboarding them on technology enabled communities.

Managed 200+ leaders, building capacity and onboarding them on technology enabled communities. To know about our leaders – Click here.

Partnered with organizations such as the United Nations, Ernst & Young India, Consulate General of India - New York, Google, UN Women, Adani, Amazon Global Selling and IIT Delhi to resolve operational and branding challenges of our incubatees.

Completed 4 Cohorts, 10 Week Incubation Program (Testimonials: Success stories ) Incubated over 150 women in India. To know about them click here .  

In 2018, we successfully ensured a 3 percent mandatory public procurement policy for women-owned businesses for ministerial and public sector undertakings ( Click here) , but we don't want to stop here. We really feel that this has to be pushed to corporate too, hence we intiated Global Campaign for Gender responsive Procurment ( Click here to join) .

Through our WE-vendor development program, women entrepreneurs have grabbed work orders worth more than c10,000 dollar and loans as well.  

In 2018, Most Elevator Pitches on a Single Platform by Womennovator,  ASIA BOOK OF RECORDS APRIL, 2018 - Glimpse of 100 Women of India Awards and creating Asia books of records: https://youtu.be/PamLi9Y2XdI  . We entered into the Asia Books of Records by having 100 women pitch their products and services in 100 minutes. 

To know more about our past initiatives and associated speakers:   Previous speakers, Media and Previous events  

In addition, we help women in creating distribution networks and get bulk orders from coporates through their WEMark initiatives, wherein more than 500 women with 1000 plus products and services are listed.

Top leaders with us - The grand finale of Wommenovator 1000 Women of Asia 2021included Many eminent personalities such as Piyush Goyal (Honourable Minister of Textile, Commerce, Industry, Consumer Affairs, Food and Public Distribution), Swati Priamal (Vice Chairman- Piramal Enterprises), Marguerite Reijnen (Aon Holdings), Nandita Das (Indian film actress), Sanjiv Bikchandhani (Founder Naukri.com), Naina Lal Kidwai (Ex country head- HSBC India) and Sonam Wangchuk of Ice-Stupa fame who have supported our initiatives for years.

Top partners & association : The Womennovator initiative has been supported by the Ministry of Science & Technology , Ministry of Micro, Small and Medium Enterprises(MSME), Ministry of Electronics and Information Technology , NSIC, SIDBI , EDII , Ahmedabad, Google India, Adani Group , Consulate General of India - New York , UN Women , UNESCAP and many others national and international organisations. Our active incubator program funders include KEI wires & cables , DS group and EnY.
How and why to get started with: https://youtu.be/kSSTHGFuSEc
Why and how to get started with us? Let's discuss about how you can make the best with Womennovator community
https://womennovators.com/blog/howtogetstarted
Join as a *Community Leader* or *follower* | - Write *Blogs* | - attend or Create your own *Events* | List your *Products* & *Services* | Join our *Incubation* | Apply for awards - Singup now - https://womennovators.com/*
#Womennovator10KMission
Got any questions email us at contact@womennovators.com.
What you can do as Individual?
What you can do as a Leader?
Create a community.

Write a blog.

Create your own EVENTS.

List your Product & Service with We Mark: Click Here

Join our Global Campaign Gender responsive Procurement - Click here to join

Conduct local round table discussions : https://www.womennovators.com/blog/roundtable

Conduct WE pitching competition: Virtual and Physical sample : https://womennovators.com/blog/WE%20pitch

Conduct WE Talk : expert talk and session https://womennovators.com/blog/Wtalk

Conduct Interview with renowned experts or conduct: Un conferencing sessions https://womennovators.com/blog/unconferencing%20session
What you can do as a Corporate?
Join our Global Campaign Gender responsive Procurement - Click here to join
What you can as a College/Institutions/Associations?
Join our Global Campaign Gender responsive Procurement - Click here to join
To partner with us for coming initiatives write to us at partner@womennovators.com and contact@womennovators.com.