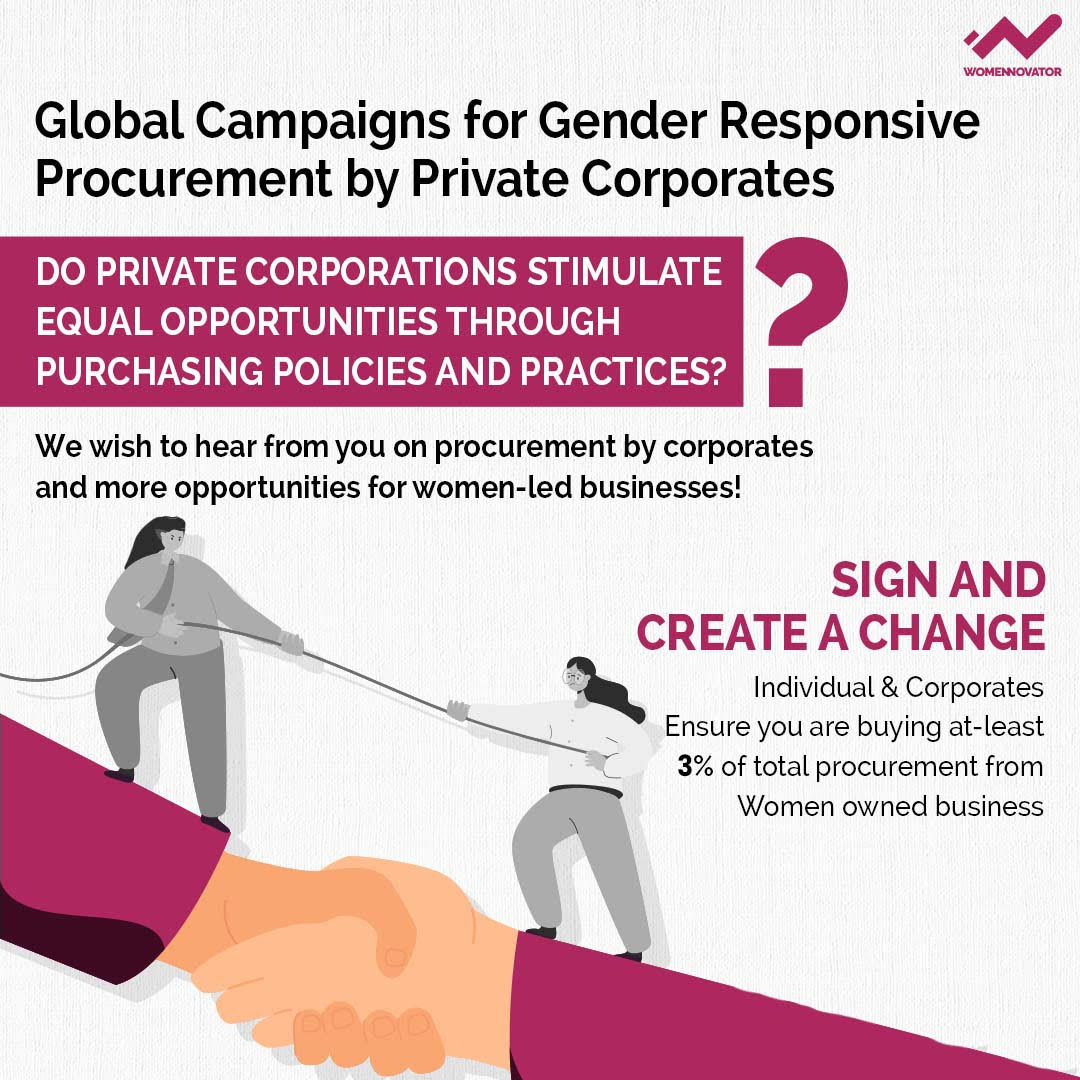 Womennovator's Global Campaigns for Gender-Responsive Procurement- Hybrid Roundtable
Become a part of the campaign:
As corporate/individual- You can join our campaign HERE
Check out our press release of the event HERE
Gender responsive procurement (GRP) is an initiative which is the need of the hour. For building a nation where women stand shoulder to shoulder with men, Womennovator believes procurement is also one such niche area where there is a lot of scope for awareness and growth.
In April 2018, World Bank had set the goal to achieve $160M by 2030 from women owned enterprises, although they achieved more than double by 2023 which was $115M through process changes, outreach, capacity building and technology leverage. The share by end of FY20 was 4.5%, an increase from FY18 (3.7%) with FY17 baseline (3.1%).
Gender Responsive Procurement means to expand benefits to all women in value chains as a means to address gender inequality, moving beyond the "buy from women-owned" approach as a consumer to "procure from women-owned" approach, which seeks to offer equal opportunities for women's enterprises to access markets. This results in a broader perspective on GRP that prioritizes gender-responsive businesses regardless of ownership, potentially enabling both women and men to gain access to business and employment prospects.
In 2018, we successfully ensured a 3 percent mandatory procurement policy for women-owned businesses for ministerial and public sector undertakings, but we don't want to stop here. During discussion, we will deliberate on the role of corporates in handholding women entrepreneurs. Women Entrepreneurs to build up the $3 trillion economy.
This initiative was one of its kind, wherein corporates came together talk about gender responsive procurement & to pledge to buy products/services made by women entrepreneurs (which could be around 1% to 3% of their existing procurement) and this in turn will help them meet their SDG obligation of "Gender Equality and Women's Empowerment".
India needs to iron out many of these issues, in order to take women entrepreneurs to next level. Not only by ensuring more easier procurement policies along with ensuring more and efficient transparency.
Womennovator conduted a closed room stakeholder Hybrid Round table on "Global Campaigns for Gender-responsive Procurement by Private and Enabling Inclusive Growth" hosted by IFC (World Bank Group) , EDII Ahmedabad & KG Somani & Co. Knowledge Partner and CapiTall Technology partner, YourStory official media partner on 4th November'2022.
We received participation from the following:
About the Womennovator (Gvriksh), Global Incubator for Women:
Empowering Billion Women
We have completed 5 cohorts of our Incubation program, which has been supported by some prominent corporates and individuals