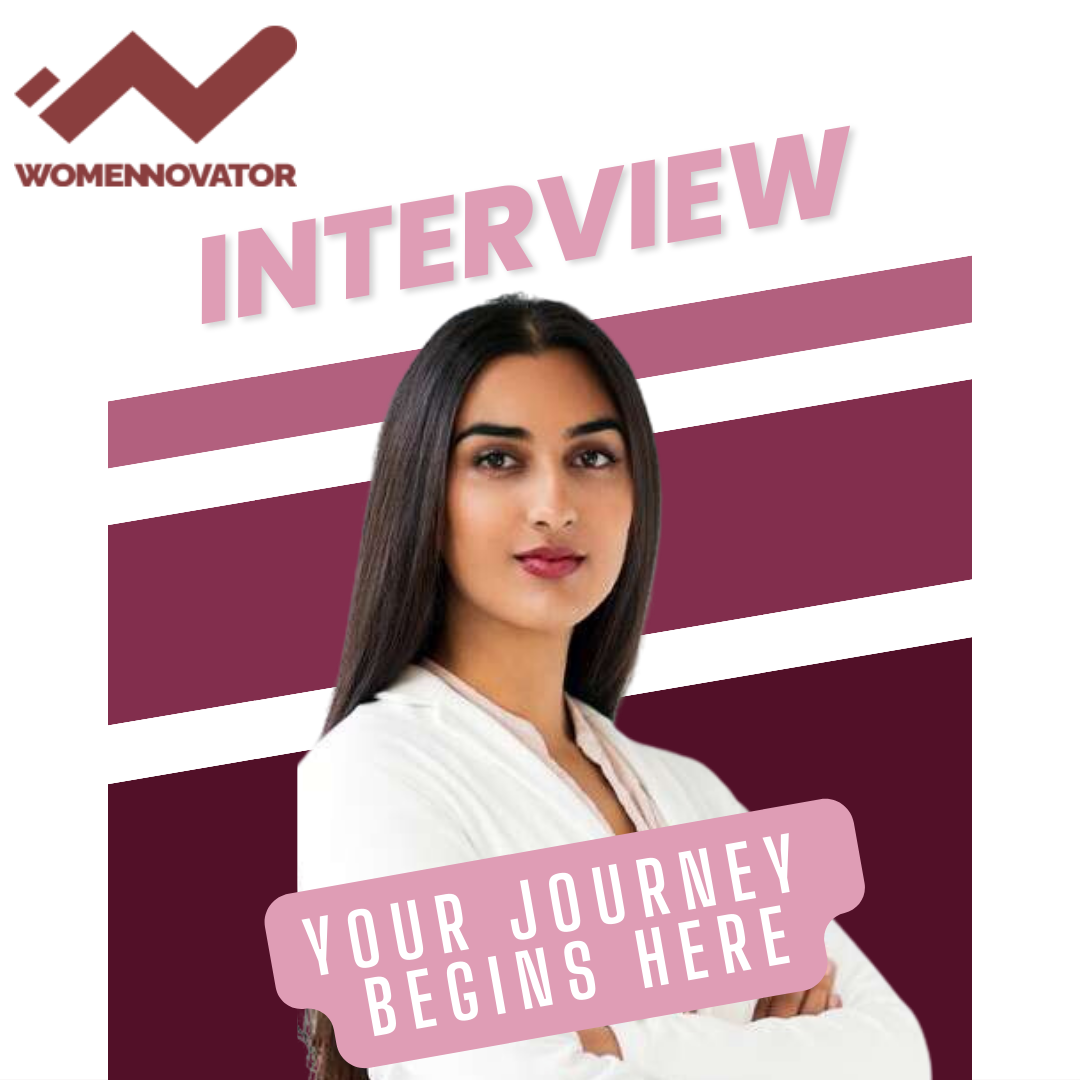 Interview with Womennovator
A PRE-READ
At the time of applying:
When submitting your application to Womennovator, it is important to showcase your passion for their mission of promoting social equity and empowering women. Highlight your dedication to continuous learning and growth, as well as your ability to work collaboratively and drive sustainable change. Emphasize any relevant experience or skills, such as proficiency in Canva or your familiarity with emerging technologies like Chat GPT. Additionally, demonstrate your professionalism by submitting a well-structured and error-free application that aligns with the organization's values and requirements.
About Womennovator
Womennovator, a global Incubator for Women, non-profit organization registered under Income Tax and Niti Aayog to empower billion of Women to deliver an ambitious, inclusive, decisive and regenerative under G20 presidency to the world. Womennovator is a vibrant global community of men and women dedicated to making Nari Atmanirbhar. Our Women Empowernment (WE) Kutumb has grown manifolds over the last eight years and has impacted over 10,000 women. At Womennovator, "Atmanirbharta '' encompasses all the facets of a women's life - economic, social, emotional, cultural, political, and societal. Womennovator, as the name suggests, symbolizes women as innovators and trailblazers in society. Today our Kutumb has over 20,000 dedicated people working relentlessly across 5 nations and 100 cities abetting 'her' journey.
About Womennovator's Initiatives
Womennovator's believe in acceleration through our micro-interventions. Here is a brief of all our ongoing and upcoming initiatives:
1. Global Incubation & Acceleration" program: We have successfully incubated over 500+ women start-ups this year. We are on an audacious journey to incubate 10000 start-ups. The program is designed to bring the best of Womennovator's programs to women-led ventures across the various sectors.
2. The Womennovator Global Drive /Yatra is planned for the early next year. We intend to reach a target of 10K Women throughout cities and sectors as part of our five-year plan. We will be starting with our flagship event, the Global Yatra, to achieve this ambition. The simple goal is to connect with the women's communities in 200+ districts across India and develop plans of action based on their problems.
3. We recently sensitized our corporates and govt bodies towards Gender Responsive Procurement (GRP) .The GRP is a nudge for their business to grow and accelerate. Many corporates have opted to include our women entrepreneurs in their supply chain.
4. Creator's Awards for female influencers and content creators is one of its kind for female influencers who dare to bring a change in the society by the fabulous content created by them.
5.Our other initiatives includes customized fellowships targeting a particular segment or city/ state based on the specific requirement shared.
6. Pledge with us to eradicate these reasons and make the numbers of women increase in the Female Labour force Participation. Studies have shown, women in higher education have increased by 7%, however the conversion from student to a working professional has decreased by 8%. We are working towards increasing the conversation rate of women into the working force.
7. Womennovator Launches the 100 Power Women Program to Uncover Hidden Stories of Women from Different Cities.
Womennovator & its initiative & impact| Click Here
At the time of the interview with the CEO:
During the interview with the CEO of Womennovator, it is crucial to exhibit your preparedness and knowledge about the organization. Discuss specific initiatives or accomplishments that resonate with you and align with your own professional goals. Show your understanding of the latest technologies and trends by referencing relevant tools like Canva and Chat GPT, highlighting how you have utilized them in your work or projects. Additionally, share any experiences where you have demonstrated professionalism and ethical behaviour in the workplace, emphasizing your ability to handle conflicts or disagreements with colleagues or superiors in a diplomatic and respectful manner.
It is essential to familiarize oneself with the organization and its mission. Browsing through the company's website (https://womennovators.com/) will provide valuable insights into their activities, initiatives, and the CEO's background. It is crucial to thoroughly read her profile CLICK HERE to gain an understanding of her achievements, experiences, and areas of expertise. By doing so, you can demonstrate your professionalism and show that you have taken the time to prepare for the meeting. Additionally, scheduling an appointment through Calendly, a widely used online scheduling tool, can help streamline the process and ensure a convenient time for both parties.
As a professional, it is important to stay informed about the latest technologies and trends in the industry. Being aware of emerging technologies can demonstrate your commitment to staying updated and your ability to adapt to the changing landscape. Familiarizing yourself with tools such as Canva, a graphic design platform, showcases your creativity and knowledge of user-friendly design software. Additionally, being aware of Chat GPT, an advanced language model like the one I am based on, demonstrates your understanding of conversational AI and its potential applications. Furthermore, having an active presence on LinkedIn and understanding how to navigate the platform is crucial in establishing professional connections and staying connected with industry leaders. By leveraging these platforms, you can showcase your expertise and engage with professionals in your field.
When you are hired:
After joining the team at Womennovator, take the opportunity to familiarize yourself with the organization's corporate brochure and website. Study their mission, vision, and values, and understand the services or programs they offer. Participate in any orientation or onboarding sessions to gain insights into the organizational structure, policies, and procedures. Make use of Canva to create a visually appealing presentation about Womennovator, incorporating key information about the organization's accomplishments, initiatives, and impact. Seek feedback from colleagues or supervisors to refine your presentation and enhance its effectiveness. Remember to engage with your new colleagues, seek guidance from mentors if available, and actively contribute to ongoing projects and initiatives. Your dedication and enthusiasm will help advance Womennovator's mission and foster a more inclusive society.


"Welcome to Womennovator: Your Journey Begins Here"
We are delighted to Welcome you on board as a member of our team at Womennovator. Congratulations on being selected. If you believe that everyone deserves equal opportunities and want to be a part of a team that strives for social equity, Womennovator welcomes you to apply for our open positions. Ready to be a force for good? Womennovator is seeking motivated individuals who are eager to work collaboratively, create innovative solutions, and drive sustainable change.
Womennovator is a Global incubator for women supporting Women across the globe and celebrates the triumph stories & records of passionate women who dared to innovate the world and honour them with awards and recognition.