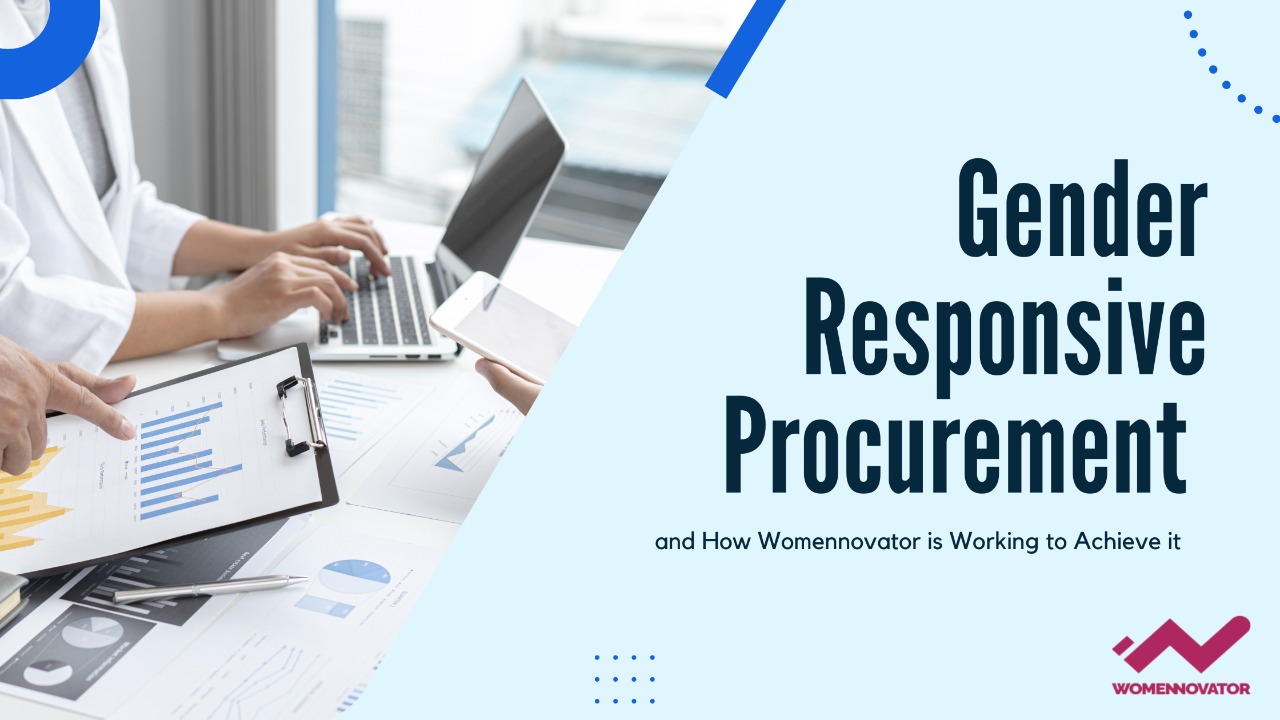 Womennovator Gender Responsive Procurement initiative will Lead Economic Growth of the Country
Gender Responsive Procurement
The gender-responsive procurement (GRP) model is proposed by UN Women and the International Labour Organization. This model leaves no one behind and produces outcomes for gender equality and women's empowerment, not just opportunities. The Sustainable Development Goals—especially Goals 5 and 8, which are concerned with gender equality and decent work, respectively—would be more likely to be attained with the help of this vision.
The brief first considers the potential to use gender-responsive procurement for expanded benefits to all women in value chains as a means to address gender inequality, moving beyond the "buy from women-owned" approach, which seeks to offer equal opportunities for women's enterprises to access markets. This results in a broader perspective on gender-responsive procurement that prioritizes gender-responsive businesses regardless of ownership, potentially enabling both women and men to gain access to respectable business and employment prospects.
The United Nations (UN) spent close to USD 19.9 billion on the purchase of services, goods, and civil works to fulfil its activities, according to the UN Women report on gender responsive procurement. Globally, the value of the purchases made by governments, businesses, and other non-governmental organizations totals trillions of dollars. However, fewer than 1% of companies owned by women are able to access the procurement market and receive contracts (Vazquez & Sherman, 2013).
A large portion of employment creation and potential economic growth is carried out by women entrepreneurs, who constitute a growing economic force. According to estimates, 8–10 million formal Small and Medium Enterprises (SMEs) in emerging economies have full or partial female ownership, or between 31 and 38 percent of all SMEs (IFC, 2011). Spending on public procurement makes up roughly 10–15% of the GDP in wealthy nations and more than 30% of the GDP in underdeveloped nations (ITC, Empowering women through public procurement, 2014). Thus, raising the income of women and ensuring sustainable social and economic advantages through procurement, supplier variety, and inclusion can help economically empower women and combat poverty.
More than 30% of micro, small, and medium-sized firms (MSMEs) globally are owned by women, according to a 2018 article by the Word Economic Forum titled "This is why women must play a greater role in the global economy." However, just 1 in 5 export-oriented businesses are held by women. Giving women the same opportunities as males in the job market could increase the global Gross Domestic Product (GDP) by 26% (USD 28 trillion) by 2025, according to a 2015 McKinsey report.
As defined by a 2020 Open Contracting Partnership report: Towards Gender Balance in Public Procurement
• ≥51% ownership/stake by a woman/woman; or
• ≥1 woman as CEO/COO (president/vice president); or
• Women sole-proprietors
In April 2018, the World Bank Group set a goal to more than double its share of corporate procurement spent with woman-owned businesses (WBEs) to 7% by 2023. Through process changes, outreach, capacity building and technology leverage, the share by end of FY20 was 4.5%, an increase from FY18 (3.7%) and the FY17 baseline (3.1%).
Measures being taken in India to realize this dream
SEBI (Regulatory Authority) had introduced new sustainability related reporting format on the Business Responsibility and Sustainability Report ("BRSR"). The BRSR shall be mandatory for the top 1000 listed entities (By market capitalization). A few of the key disclosures sought in the BRSR are highlighted below:
Sustainability related goals & targets and performance against the same
Social related disclosures covering the workforce, value chain, communities and consumers, as given below:
Employees / workers: Gender and social diversity including measures for differently abled employees and workers, turnover rates, median wages, welfare benefits to permanent and contractual employees / workers, occupational health and safety, trainings etc.

Communities: disclosures on Social Impact Assessments (SIA), Rehabilitation and Resettlement, Corporate Social Responsibility etc.

Consumers: disclosures on product labelling, product recall, consumer complaints in respect of data privacy, cyber security etc.
As mentioned in Format -Principle 8: Leadership Indicators
Excerpt" 3. (a) Do you have a preferential procurement policy where you give preference to purchase from suppliers comprising marginalized /vulnerable groups? (Yes/No)
(b) From which marginalized /vulnerable groups do you procure?
(c) What percentage of total procurement (by value) does it constitute?"
Sustainability Reporting Standards Board- The Institute of Chartered Accountants of India
Sustainability Reporting Standards Board (SRSB) has been constituted by the Institute of Chartered Accountants of India (ICAI) in February 2020, with the mission to formulate comprehensive, globally comparable, and understandable standards for measuring and disclosing non-financial information about an entity's progress towards United Nations Sustainable Development Goals (SDG) 2030.
Recently, the Government of India has moved one step ahead to set a milestone for SMEs. As mandated by the government of India, every Central Ministry /Department / PSUs shall set an annual target for 25% procurement from MSE. Moreover, a sub-target of 4% out of 25% target of annual procurement earmarked for procurement from MSEs owned by SC/ST entrepreneurs.
Special provision for Micro and Small Enterprise owned by women. Out of the total annual procurement from Micro and Small Enterprises, 3% from within the 25% target shall be earmarked for procurement from Micro and Small Enterprises owned by women.
This policy was suggested by our founder Tripti Somani who has worked hard to mandate this 3% procurement policy, Womennovator is going one step ahead to walk the talk.
As founder, she believes all of us should join and push gender responsive procurement.
Womennovator's vision is to create a gender responsive procurement environment which enables women entrepreneurs to come forward- not only procurement from government, public sector undertakings but also from corporates, institutions and individuals.
We are enabling quantifiable impact by:
Number of products/services procured from women entrepreneurs
Revenue created for women
How many lives are getting affected (Multiplier effect)
How Womennovator is doing gender responsive procurement?
We are organizing first ever stakeholder roundtable on 4th November 2022 on a hybrid mode on "Global Campaigns for Gender-responsive Procurement by Private and Enabling Inclusive Growth" hosted by IFC (World Bank Group), EDII Ahmedabad & KG Somani & Co. Knowledge Partner and CapiTall Technology partner, YourStory official media partner
To know more, click here https://womennovators.com/we/blog/procurementroundtable
We are also set to go on a global yatra to promote our women products and for this our call for action is to take a pledge from corporates and invite incubatees come on board with us on www.womennovators.io.
For more information on Global Yatra, please visit: https://womennovators.com/we/blog/WE%20Roadshow
Pledge
Womennovator has come up with a solution to build a pledge campaign wherein different corporates can pledge a percentage amount which they can and will procure from women entrepreneurs and SMEs.
We are ensuring buying at-least 3 % of total procurement from Women owned business.
This initiative will be one of its kind, wherein corporates will pledge to buy products/services made by women entrepreneurs (which could be around 1% to 3% of their existing procurement) and this in turn will help them meet their SDG obligation of "Gender Equality and Women's Empowerment".