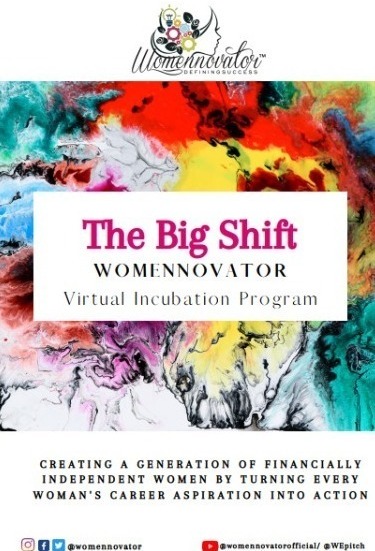 The Big Shift Global Incubation Program| Incubatees portfolio
The Big Shift Global Incubation Program| Incubatees Portfolio
C R E A T I N G A G E N E R A T I O N O F F I N A N C I A L L Y
I N D E P E N D E N T W O M E N B Y T U R N I N G E V E R Y
W O M A N ' S C A R E E R A S P I R A T I O N I N T O A C T I O N
The Big Shift
Virtual Incubation Program 2021
The BIG SHIFT is a flagship initiative of Womennovator launched in 2018
with the vision of providing budding entrepreneur women, who have the
zeal & passion but are looking for support in various other aspects of a
business. It's a 10-week Virtual Incubation Program that provides an
incredible opportunity for aspiring women to connect, learn and lead.
The program brings together these women from multiple cities and
sectors, creating an environment for peer learning. Today, we work
closely with 8000+ women in 20+ countries, 100 cities across 90+
sectors, and counting.
At the end of the journey, they meet the moguls from various sectors and
industries, who are ready to hear their pitches. In our Global Summit in
October 2021 we recognized 1000 women who have experienced the
'Big Shift' in their professional and personal lives after they joined hands
with Womennovator. Not only the individual women, we have also
observed that this had far-reaching benefits for their families and society
at large.
Womennovator is a global community of 10,000 men and women working
diligently towards making women a 'true contributor' to the nation's
economic growth. Through meaningful interventions at different stages,
we offer support to women-led initiatives. Womennovator is committed
to make the women and girls become equal contributors to the growth
and development of the country under the Sustainable Development
Goal (SDG)-5 The best part is yet to come! Once you are part of the WE-Community,
you will meet the many inspiring & aspiring female entrepreneurs,
professionals, and even social activists that brings a new perspective to
your thought process