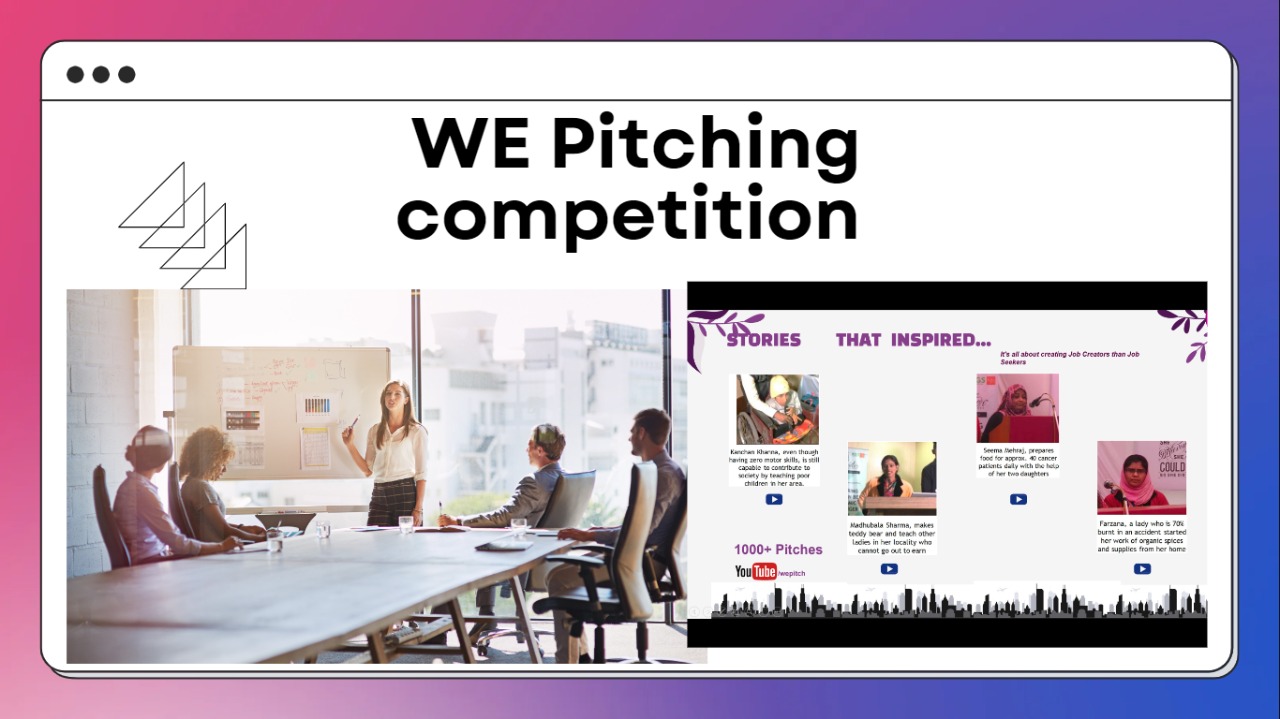 How to Conduct WE pitching competition?
WE Pitch-a creative way to encourage everyone to think and share ideas.
To be held by Influencers
Sample video for conducting Hybrid WE pitch competition:

Doordarshan Coverage | Womennovator 2018 | 100 Women Faces
Virtual WE Pitch Sample
Madhubala Sharma. makes teddy bear and teach other ladies in her locality who cannot go out to earn
Seema Mehraj. prepares food for approx. 40 cancer patients daily with the help of her two daughters
Kanchan Khanna. even though having zero motor skills, is still capable to contribute to society by teaching poor children in her area
1. Who can participate in WE pitching Competition?
Any Women Entrepreneurs, Leaders, Professionals or Social Activists, or Men working on a project supporting women.
2. How do and where do I apply and send my 1 min recorded video and what next?
First step: Signup on www.womennovators.com
Second step: Choose category wisely: Leaders or Women Faces
Third step: Apply for awards: https://www.womennovators.com/we/awards
Fourth step: You shall get a mail to upload the link of your 1 mins video.
Sample 1 min WE Pitch for Reference: Learn how to pitch
Note, in 1 min, you should cover: Name, Place, Country, About your project/ idea, impact created, Why are you pitching.
Fifth Step: Once you send us your Video, it shall be uploaded on www.youtube.com/c/WEPitch in 5 working days
Sixth Step : Share your You-tube video with your friends and family for Public choice category awards for your sector or city competition.
Seventh step: Whenever the WE pitch competition shall be conducted, you shall be intimated with date and time , where Jury shall ask you question and Results shall be announced.
Agenda / Event Flow for WE Pitch Competition