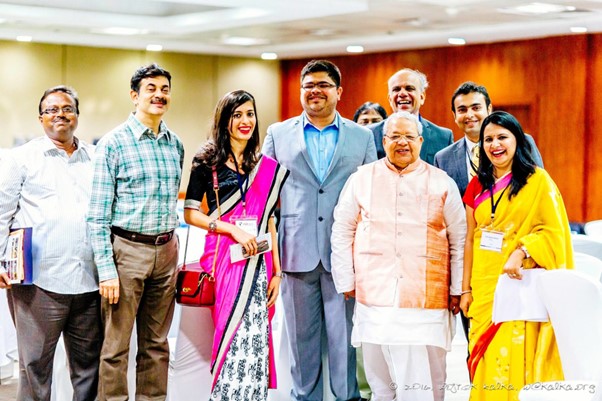 How Ms Tripti Shinghal Somani founder (Kgs Advisor) initiated her journey in supporting entrepreneurship - MIT Global Startup Workshop 2016
Kgs Advisor (Womennovator) Entrepreneurship Centre won the global bid to host the 19th edition of MIT Global Startup Workshop 2016. The premier workshop was conducted from 21-23 March 2016 at HICC Novotel, Hyderabad. Participants from over 70 countries participated in the 3-day workshop.

MIT Global Startup Workshop 2016

The Martin Trust Center for Entrepreneurship, MIT Legatum Center, and the MIT Alumni Association collaborate to host the Massachusetts Institute of Technology Global Startup Workshop (MITGSW), which is a signature event of the university. Each year, about 40 MIT students, alumni, and staff members organise the three-day conference in close cooperation with collaborators from a different host country to discuss actionable steps that students, academic faculty, venture capitalists, government leaders, entrepreneurs, and top business leaders can take. The 19th iteration of the MIT Global Startup Workshop (MITGSW 2016) was held in Hyderabad from March 21–23, 2016 in collaboration with Kgs Advisor. The world's top workshop for nurturing entrepreneurship and inspiriting prospective entrepreneurs, Kgs Advisor (Womennovator), won the international competition to host the 2016 edition.

Outcomes of MITGSW 2016
"Once again this year, the MIT student-run Global Startup Workshop, also called GSW, has been a great success. The Alumni Association has been involved throughout the year of preparation and I am excited to share three main contributions and lessons learned.
i. MIT GSW successfully set an example of MIT's global leadership in innovation by bringing the entrepreneurial spirit of MIT and its alumni to Hyderabad – upcoming startup hub of India.
ii. MIT GSW led and facilitated the conversation around all aspects of entrepreneurial ecosystem in India by bringing all stakeholders under one roof including the government, private sector, entrepreneurs, students and mentors.
iii. MIT GSW remains a unique leadership opportunity for our students coordinating all aspects of the world-class workshop. This year, PhD candidate Alexandre Guion and MBA student Mili Shah have demonstrated outstanding leadership in navigating the foreign, complex and rapidly-changing ecosystem in India.
After attending GSW for the first time this year, I am convinced of its value and mission in fostering entrepreneurship, inspiring future innovators, and building entrepreneurial ecosystems globally."
"Some videos captures the highlights of the event. Check it out!"
https://www.youtube.com/watch?v=eCFXn3RrBCA

https://www.youtube.com/watch?v=EAoDRGCsIXE

https://www.youtube.com/watch?v=aqf5E9qfuPI


We captured some amazing moments from the event in our pictures. Take a look