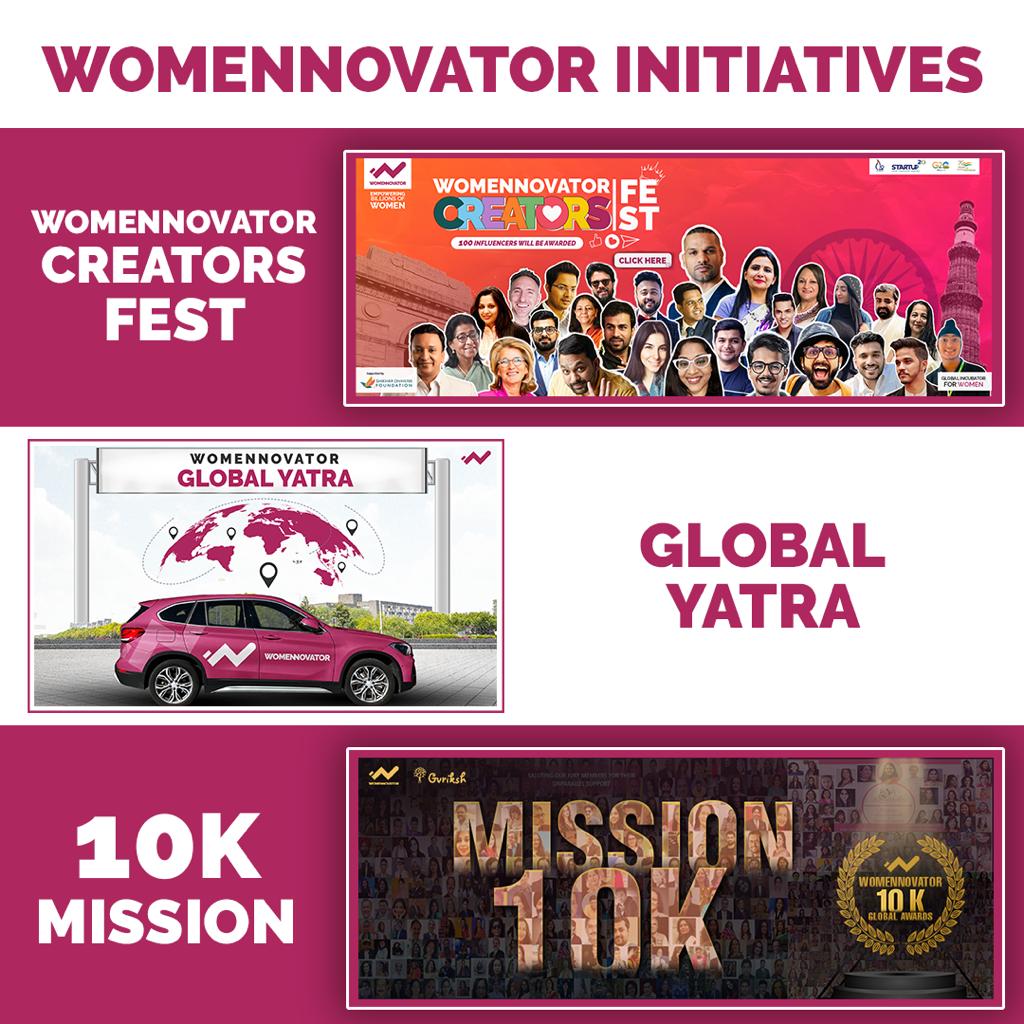 "Empowering Dreams, Igniting Greatness: Embrace the Unstoppable Movement of Women Entrepreneurship and Content Creation"
The Womennovator 10K Fellowship Program empowers women leaders from diverse backgrounds, industries, and geographies by providing them with skills, tools, and resources to create a positive impact in their communities and beyond. The program recognizes 100 power women from every city or sector for their achievements and impact, and the leader and top six most-liked profiles are nominated for the Womennovator 10K Fellowship Program. Through this initiative, women can expand their network, gain new insights, hone their leadership skills, and receive support and guidance from experienced mentors and coaches. 
Program Focus 
Community Enablement focuses on building a community of women leaders through the 100 Power Women program, which allows leaders to nominate women who have made significant contributions to their respective fields. This program aims to connect and empower women across different cities and sectors.  
This activity aims to provide leaders and stakeholders with the necessary skills, knowledge, and resources to effectively lead and support women entrepreneurs. By building the capacity of leaders and stakeholders, the program can create a more supportive ecosystem for women entrepreneurs and promote their success. The activity includes various training sessions, workshops, and mentorship opportunities to help leaders and stakeholders develop their skills and knowledge. 
Pitching Competitions provide women with a platform to share their life stories, struggles, and achievements. Through these competitions, women from various cities and sectors can share their stories and inspire others.  
Incubation & Acceleration is a 10–14-week program specially curated for women entrepreneurs across various sectors. The program provides support and mentorship to women entrepreneurs to help them develop their business ideas and take them to the next level.  
Go to Market is a program that helps women entrepreneurs with the Go to Market strategies through WE shop and Gender responsive procurement dashboard. This program aims to help women entrepreneurs navigate the market and increase their visibility. 
Expected outcomes of participating in the Womennovator program: 
Opportunity to attend 200 events and gain exposure to a large and diverse audience. 
Access to a network of women entrepreneurs to build partnerships and collaborations. 
Chance to mentor and support women and contribute to their growth. 
Increased diversity and inclusion in your business practices. 
Improved brand reputation through association with a respected program. 
Last miles connect to underserved communities through our outreach efforts. 
Corporate Social Responsibility (CSR) & Environment, Social, And Governance (ESG) reporting to showcase your commitment to social responsibility. 
Better public relations through media coverage and recognition. 
Potential for business growth and expansion through incubation and acceleration programs. 
Who can participate in the Womennovator 10K Fellowship Program? 
The program is open to anyone who is passionate about empowering others, regardless of gender. This includes: 
Individuals who are making a difference in their community or society 
Professionals who are challenging the status quo in their workplace 
Entrepreneurs who are leading the way in their industry or sector 
People with political aspirations to help our country towards gender equality. 
Why should you participate in the Womennovator 10K Fellowship Program? 
There are many reasons why you should consider participating in this program, including: 
Networking opportunities 
Increased visibility and recognition 
Platform to inspire others. 
Representation 
Opportunity for incubation 
How to Apply? 
Step1: Ask women to apply on 100 Power Women Form, in case they are not able to apply themselves, leader must take the ownership to help the women fill it. 
Step 2: Record 1-minute videos of the women including their life stories, struggles & achievements, & nominate them for WE pitch competition. 
Step 3: Send us these videos to get them posted on our official You Tube channel. Once the videos are uploaded, based on the maximum likes, one woman will get the chance to be on the cover page along with the leader. And other women will be featured in the Magazine. 
Step 4: These women will get direct entry to our 10K awards and our incubation program. 
The Womennovator 10k Fellowship program empowers women entrepreneurs through skill development, institutional leadership, entrepreneurship, governance, state capacity, rural livelihood, and international exposure. It provides access to government grants, personalized training, and networking opportunities, creating a supportive ecosystem for women to start and grow their businesses. The program's focus on building institutional leaders drives change and creates a more diverse and inclusive society. Overall, the Womennovator program is a powerful tool for women entrepreneurs, providing the necessary resources and support to succeed and make a positive impact on their communities. 
Partner Benefits: 
Increased visibility and exposure to a large and diverse audience. 
Opportunity to support and mentor women entrepreneurs. 
Access to a network of women entrepreneurs. 
Improved brand reputation through association with a social impact program. 
Opportunity to contribute to diversity and inclusion initiatives. 
Last miles connect to underrepresented communities. 
CSR and ESG reporting benefits through supporting a socially responsible program. 
Collaboration and networking opportunities with other partner organizations. 
Potential to develop and promote gender-responsive procurement strategies. 
Opportunities for PR and media coverage.  
Breaking Barriers, Inspiring Success: Womennovator launches Creators Fest!
Are you ready to join the trailblazers in fuelling a transformative environment where women break barriers, achieve greatness, and unleash their boundless success and amplified voices?
In a world of limitless possibilities, women continue to redefine the norms and achieve extraordinary feats. Recognizing their boundless potential and the urgent need to amplify their voices, two game-changing initiatives, the Womennovator Global Yatra, and Creators Fest, have forged an alliance to revolutionize entrepreneurship and content creation. Brace yourself for an awe-inspiring journey through the captivating world of these trailblazing movements.
Womennovator Global Yatra: Empowering Entrepreneurs
What potential impact can arise when women entrepreneurs, equipped with necessary skills and supported by a vast network, shape the future of business, innovation, and social impact?
Imagine a magnificent mobile campaign traversing the length and breadth of India, igniting the entrepreneurial spirit within women from all walks of life. The Womennovator Global Yatra is precisely that—an awe-inspiring journey aimed at creating awareness, fostering growth, and accelerating women's entrepreneurship. In collaboration with local NGOs, government bodies, and corporate sponsors, this campaign radiates knowledge, inspiration, and endless networking opportunities.
Unlocking Potential: Workshops, Training, and Seminars
How can collaborations between women content creators and established industry leaders amplify the impact of their creative expressions and provide greater visibility?
The Womennovator Global Yatra bus serves as a vibrant hub, offering empowering workshops that shed light on the vast world of entrepreneurship. These immersive sessions dive into the intricacies of starting and running a business, equipping women with indispensable skills and knowledge. Through comprehensive training on finance management, marketing strategies, sales techniques, and customer relations, participants acquire invaluable business acumen.
To ignite the flames of inspiration and empowerment, the bus conducts dynamic seminars on women's empowerment, urging women to seize control of their lives and forge their own path to success. Interactive sessions with esteemed experts in entrepreneurship provide invaluable guidance and insights, fuelling the journeys of aspiring women entrepreneurs.
Networking: Forging Bonds, Fuelling Growth
How can we ensure that women from diverse backgrounds and communities have equal access to resources, networks, and opportunities, creating a level playing field for their entrepreneurial and creative endeavours?
The Womennovator Global Yatra creates a vibrant platform for women to connect, exchange ideas, and build networks that transcend boundaries. By fostering meaningful relationships with like-minded individuals and facilitating crucial business contacts, this campaign becomes the catalyst for collaboration and exponential growth. Opportunities to showcase products and become distributors or resellers further amplify the profound impact of this incredible initiative.
Creators Fest: Igniting the Power of Content
In the digital realm, content creators and influencers have mesmerized audiences worldwide, captivating hearts and minds with their creativity and vision. The Creators Fest, a breath-taking one-day extravaganza, celebrates their talent, promotes brands, and unites women influencers and content writers. Get ready for an immersive experience featuring captivating keynote speeches, thought-provoking panel discussions, networking sessions, and an exhilarating awards ceremony—all serving as a launchpad for the transformative "Dewi Program" spanning five years.
Empowering Women Through Content: Unleashing Untapped Potential
The Creators Fest gathers women influencers and content writers from diverse industries and backgrounds, fostering a spirit of unity, learning, and inspiration. Esteemed industry experts generously share their insights, enabling participants to hone their skills, expand their networks, and gain recognition for their exceptional work. This festival of creativity and empowerment holds the power to transform careers and make a lasting impact on society.
Unleash the Power: An Irresistible Marketing Strategy
Both initiatives employ an irresistible marketing strategy to maximize reach and impact. Harnessing the power of social media advertising, influencer collaborations, targeted advertisements, and personalized email marketing, they captivate their target audience and ignite a sense of curiosity and excitement. Through strategic partnerships with visionary sponsors and leveraging existing networks, these initiatives create a buzzing atmosphere, enticing women to be a part of these extraordinary experiences.
Sponsorship Opportunities: Joining the Movement
The Womennovator Global Yatra and Creators Fest offer a wide range of sponsorship levels, providing brands with a unique opportunity to align themselves with empowerment and social change. Sponsors gain extensive visibility, prominent logo placements, exclusive speaking opportunities, and VIP access, showcasing their unwavering commitment to women's advancement and making a lasting impact on attendees.
Conclusion:
Prepare to witness the revolution!
The Womennovator 10K Fellowship Program and Creators Fest are not just initiatives; they are powerful catalysts of change, igniting the fire within women entrepreneurs and content creators. Step into the spotlight, unleash your potential, and join the league of unstoppable trailblazers!
With the 10K Fellowship Program, you'll be immersed in a world of empowerment, where skills are honed, networks are forged, and dreams become reality. From community enablement to pitch competitions, incubation to go-to-market strategies, this program will equip you with the tools to conquer any challenge and leave an indelible mark on the entrepreneurial landscape.
But that's not all! The Creator's Fest is your ticket to a day of electrifying energy, where content creators reign supreme. Immerse yourself in workshops, soak up wisdom from industry experts, and let your creativity soar to new heights. Unleash your content wizardry, connect with like-minded influencers, and be prepared to witness your talent recognized and celebrated like never before.
By participating or becoming a host partner, you become part of a movement that breaks barriers, inspires success, and amplifies women's voices. Picture yourself rubbing shoulders with the industry's finest, gaining recognition, and forging connections that could shape your destiny. It's time to grab the reins, set your ambitions alight, and make an empowering impact on society.
So, are you ready to embrace the extraordinary? Don't let hesitation hold you back; take the leap and join the ranks of those who refuse to settle for anything less than greatness. The future of women entrepreneurship and content creation awaits—claim your place, make your mark, and let the world witness your unstoppable rise to success. The time is now, and you are the driving force behind this unstoppable revolution. Let's make history together!
Important Links