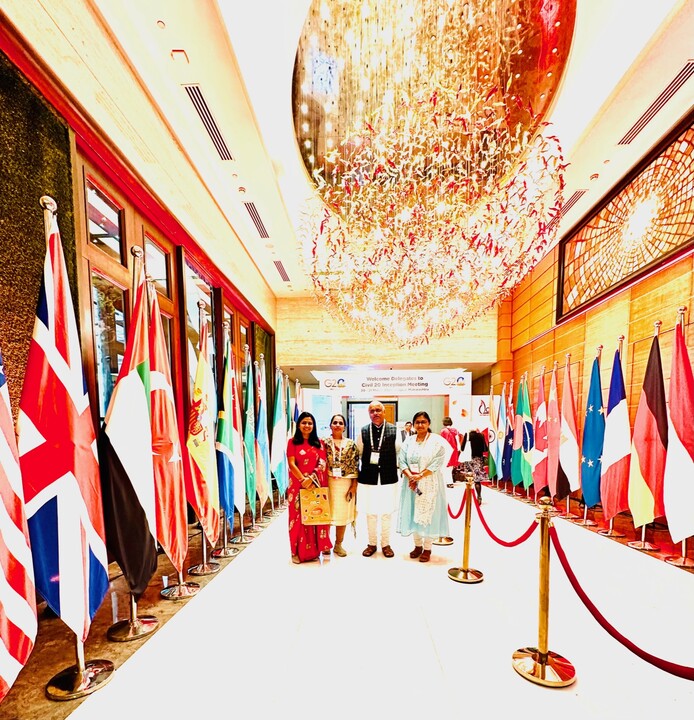 Civil20 India 2023- Nagpur
Civil20 Inception Meeting
The event started with C20 Sous Sherpa Dr Swadesh Singh @swadesh171 handing over C20 flag to Maharashtra Dy CM Devendra Fadnavis in presence of Dr Dr. Vinay Sahasrabuddhe ,VC, RMP and President, ICCR and Ah Maftuchan, C20 Sherpa, Indonesia 2022 and #NiveditaBhide , VP, Vivekananda Kendra .
Interaction with C20 (G20 ) Shapers & Sherpas
The #C20 Inception Conference saw speeches from all guests at the Inaugural Ceremony who shared diverse insights with the audience. #Civil20India2023 #YouAreTheLight
The inaugural ceremony was chaired by Mata Amritanandamayi Mata Amritanandamayi Mandir Trust MAMAT and Nobel Peace Prize winner and Founder of Bachpan Bachao Andolan Kailash Satyarthi was the chief guest at the C20 Inaugural Ceremony of the C20 Inception Meeting. Amitabh Kant G20 India Civil20India2023
The first plenary session at the Civil20 Inception Conference was chaired by satyananda mishra, Frmr CIC, India and covered working groups related to environment and sustainability. The invited speakers included Dr Andy Carmone CNM MSN MPH, Director, Clinton Health Access Initiatives; Dr Merle de Kreuk, Professor, Environmental Tech, TU Delft; #JadavPayeng , Environmentalist and #IndiraKhurana , Commissioner, Communication in World Commission on Drought and Flood.
The second plenary discussion at C20 Inaugural Ceremony was on: Civil Society Organisations and Promotion of Human Values with the chair Shyam Parande , Secretary, Sewa International. Speakers included Naseema Hurzuk, President, Saahas Disability Research and Care Foundation, Kolhapur; Swami Parmatmananda , Arsha Vidya Gurukulam and Owain James, Global Director, 100 Million Campaign
The fourth plenary session at the C20 Inaugural Ceremony was on Civil Society Organisations as Drivers of Innovation and Technology chaired by Amb. Vijay Nambiar, Principal Coordinator, #C20 India 2023. The invited speakers included Alison Richards, Intel Corporation, Director; Jaya Jaitly, President and Founder, Dastkari Haat Samiti; Veronika Soboleva, Director of Development at ICPC Global Foundation and Binny Buchori, The PRAKARSA, Indonesia
The Valedictory Ceremony of the C20 Inception Meeting saw chief guest Nitin Gadkari ji , Union Minister for Road and Highways and the guest of honour #AbhayThakur, Sous Sherpa, G20 and Addtl Sec, Ministry of External Affairs, India
As a concerned citizen, I would like to suggest to the government that we need to value the time and effort of volunteers in our society, especially under the Civil 20 platform. It is vital to encourage and acknowledge volunteerism as it plays a crucial role in promoting social well-being and progress. To ensure effective recognition of volunteer contributions, we should create a matrix that accurately measures and tracks the time spent on volunteer activities. This matrix should be displayed on a national website to provide transparency and accountability. By doing so, we can encourage more individuals to participate in volunteering activities and show them that their efforts are valued and appreciated.
Moreover, it is important to note that tracking volunteer time can also help in resource allocation, where governments can identify areas where volunteers are most needed and allocate resources accordingly. This, in turn, can help create a more efficient and effective volunteering system that can benefit society as a whole.
Lastly, it is crucial to focus on social entrepreneurship instead of just social work. This shift in focus will not only create a positive impact in society but also foster innovation and progress. Ultimately, we need to promote compassion in abundance in our world and encourage individuals to take part in social entrepreneurship initiatives to achieve this goal. By doing so, we can create a brighter future for generations to come.